Instantly Protect Your Floors From Damage (The Easy Way!)


✔️ Guaranteed floor protection
✔️ Fits square, rectangular or round legs
✔️ Instant setup – no tools needed
✔️ Long lasting, durable felt and glue
✔️ Prevent screeching noises
Just a split second is all it takes for your floors to get a nasty, costly scratch…
Introducing FlexiSavers – the revolutionary chair leg covers that protect your floors from scratches and dents. 
Combining the elasticity of silicone and the softness of felt underneath, these caps allow furniture to effortlessly glide across floors without marks or noise… keeping your floors beautiful.
✅ Prevent A Costly Floor Scratch


The costs and effort required to fix a damaged floor can be enormour! Protect your beloved home with FlexiSavers. It's a no brainer investment to make.
✅ No More Screeching Noises


 Let your furniture  glide along the floor with ease, thanks to the secure felt pads.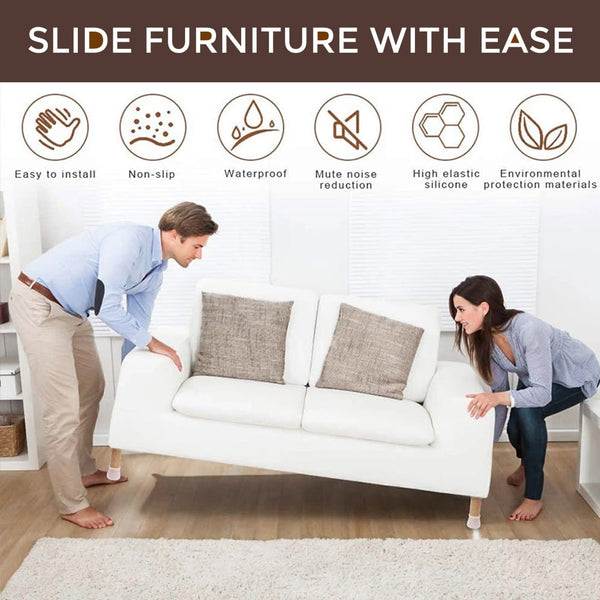 ✅ Fits Most Furniture Legs, Different Shapes & Sizes
The FlexiSavers were designed with extreme flexibility in mind. They fit both round and square legs – as the silicone material easily conforms to any sh ape.
Try them out on: Chairs, bar stools, patio chairs, kitchen chairs, metal bistro chairs, desk chairs, and more.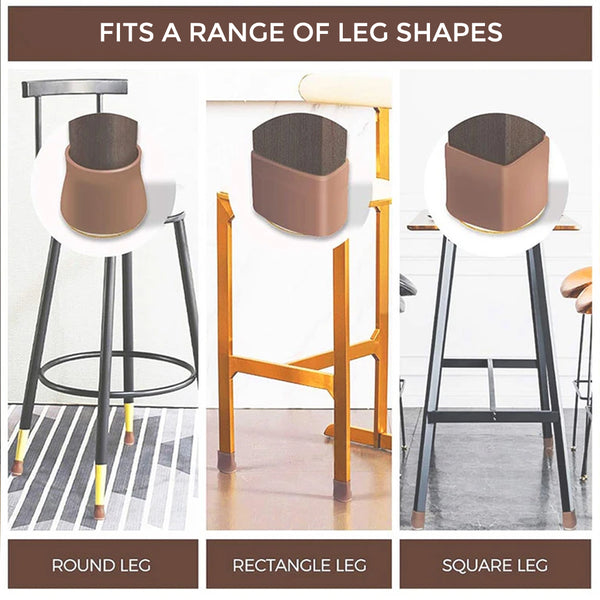 ✅ Super Simple To Set Up


Unlike other tricky felt pad protectors, FlexiSavers unique design make set up easy! Simply slip them over your furniture feet, and they will stick like a glove. No need for fancy tools or complicated processes. 

✅ Reliable, Doesn't Fall Off
The felt pad is attached to the silicone cup with high-quality glue, forming one unit that cannot be separated, ensuring the product's durability. While the strong elastic soft silicone cup grips the foot of any furniture firmly. This means longer lasting protection for your floors.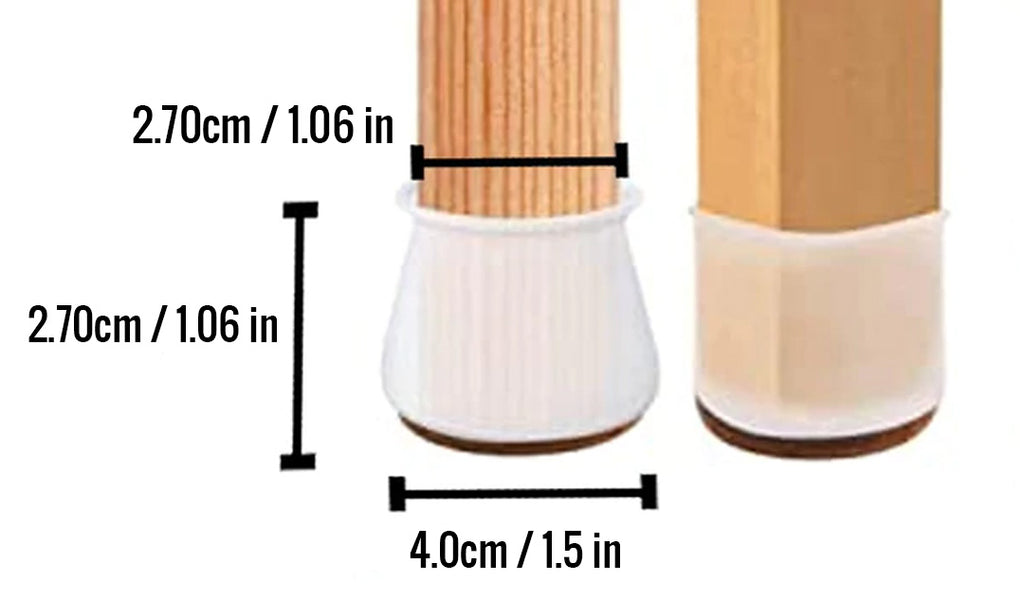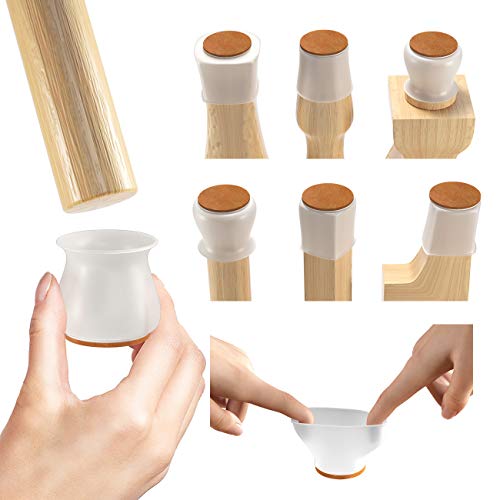 Product Specifications:
Silicone + Felt
Elastic, Reusable, Durable
Top width: 1.06 inches / 2.70 cm
Bottom width: 1.5 inches / 4.0 cm
Suitable for indoor or outdoor use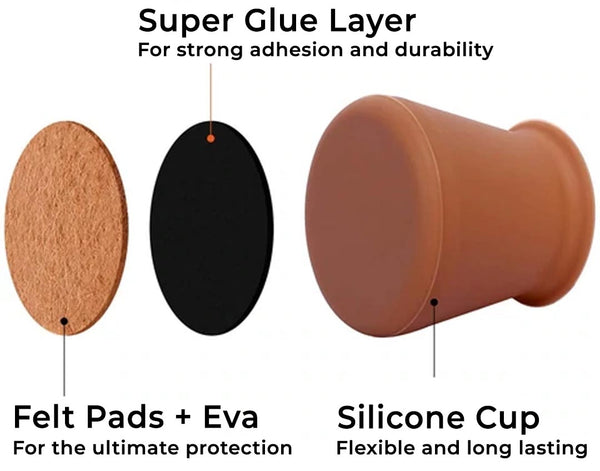 Shipping Information:
Enjoy low flat rate shipping with complimentary parcel insurance, or
FREE SHIPPING when you order a pack of 32 or more.
See estimated shipping times below:
UK: Estimated 5-10 Working Days
USA: Estimated 7-14 Working Days
Australia: Estimated 8-15 Working Days
Canada: Estimated 8-15 Working Days
New Zealand: Estimated 8-15 Working Days
Rest of World: Estimated 5-18 Working Days
We are glad to advise the customer is not responsibe for any extra fees (charges, taxes, customs fees)!  *Excludes wholesale, bulk orders.
Frequently Asked Questions:
Do You Have Square Shaped Ones?
The original FlexiSavers can fit both square and round furniture legs. This means you don't need to

purchase square shaped covers, as the stretchy silicone will fit like a glove around your square chair legs!
What Is the size of FlexiSavers?
Top width is 1.38 inches
Bottom width is 1.57 inches
The height is 1.38 inches
Yes! We have a 30 day money back guarantee. This means if you aren't happy with the items at any time in the first 30 days of receiving your items, you can simply send them back to our warehouse for a full refund.
Does The Felt Pad Last Long?
Absolutely! The felt pad does not wear down rapidly, and the glue holding the felt pad to the silicone body is super strong. This means your FlexiSavers will stand the test of time. However we can not make any guarantees if FlexiSavers are misused, for example installed incorrectly.
Are You A Legitimate Business?
Yes! Absolutely. We started off as a small family run company back in 2020 and have since gained the trust of thousands of happy customers across the globe. Customer satisfaction is our highest priority and we are continuously striving to improve our customers experience. As always, feel free to reach out to our friendly support team if you have any concerns at all.
What Currency Is The Payment In?
Our online shop system automatically detects your location and chooses your local currency for payments. E.g. if you're in Australia you pay in AUD, if you're in Canada you pay in CAD. This ensures there are no additional foreign transaction fees from your card provider.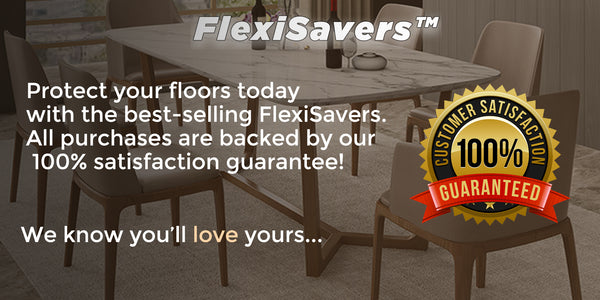 Cick Add To Cart To Save Up To 60% Today! Hurry, Limited Time Only