Take a look at what our happy and satisfied customers are saying:

"I was skeptical because I've tried a lot of hair growth products. My hair has been thinning in the front for over a year now— making me very self conscious. So I bought this Houttuynia Hair Growth Scalp Ampule. I noticed a difference in the density of my hair after 2 weeks of use. I've been using it every night for a week, and even my hair dresser noticed a difference when I went to get my haircut the other night. I also like that it's lightweight and smells nice, so I can use it every day without having to wash my hair everyday. Some of the other products I've tried were too oily for everyday use."

Barry Johnson, 29, Manhattan, New York

"

My hair thinned out a lot when I became pregnant and developed a thyroid condition. I tried A LOT on my hair to make it regrow and I think a little came back, but nothing too impressive. This is probably the first product that makes me feel A LOT more confident about my hair and going out in public. People tend to ignore the fact that women have difficulty with hair loss too and for aging women with thinning hair this is perfect.

"

Susan Bowler, 33, Milwaukee, Wisconsin
2 Key Ingredients For Hair Growth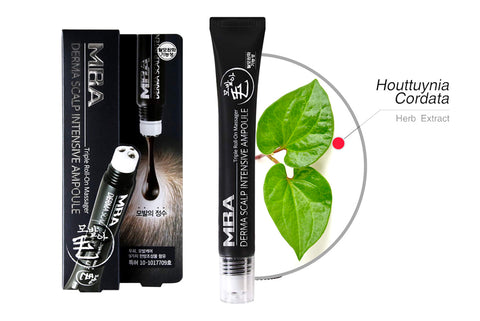 A traditional oriental herbal medicinal plant widely used as a component of complex prescriptions in Asia for alopecia treatment. The effect of HC on hair growth and its underlying mechanism. 
In this study, we investigated the hair growth promoting effect of HC in cultured human dermal papilla cells (hDPCs). HC extract was found to stimulate the proliferation of hDPCs and this stimulation might be in part a consequence of activated cellular energy metabolism, because treatment of HC extract increased the generation of nicotinamide adenine dinucleotide (NADH) and ATP through increasing the mitochondrial membrane potential. Thus helps in promoting the growth of small hair fibers in the follicles.
What makes the Houttuynia Hair Growth Scalp Ampule effective?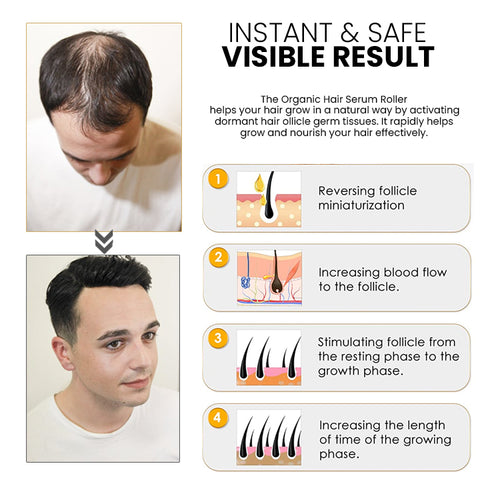 Thick & Lush – Stimulates the scalp to improve hair growth, texture and thickness for overall healthy and lush hair. 

Anti-Hair Loss – Strengthens hair and roots to prevent hair loss and thinning.

Roll-On Massager – Features a triple ball massager that improves scalp micro-circulation and speeds up absorption.

All-Natural Formula – Contains effective herbal ingredients that are non-irritating, safe to use and promote hair growth.

Easy to Use – Shake before using. Squeeze an appropriate amount onto the rollers, then gently massage over the desired area.

Widely Suitable – Suitable for all hair and skin types, for men and women.

 

What makes the Houttuynia Hair Growth Scalp Ampule special?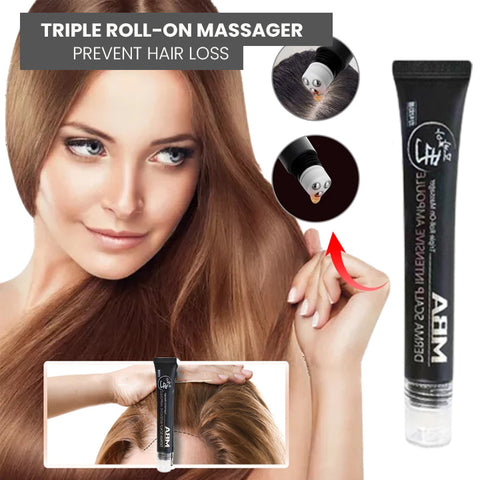 Intensively nourish the scalp and promote hair growth, with the triple-sphere roller to enhance serum absorption and stimulate the scalp and hair roots for better metabolism by gentle massage. The treatment begins to work immediately and hair becomes noticeably thicker, fuller and healthier. Experience how your hair transforms from dull to shiny, glossy and soft. The serum helps your hair to grow naturally by activating dormant hair follicle germ tissues on the scalp and eliminating DHT production.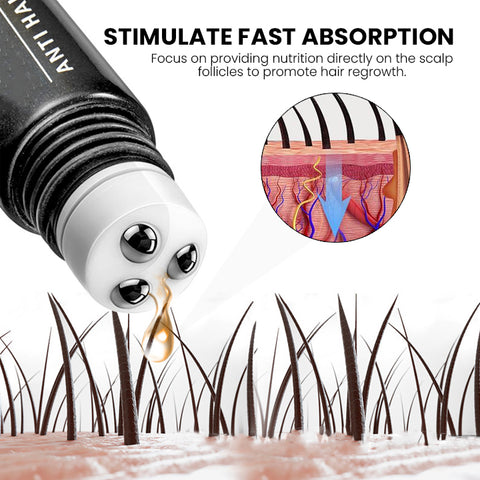 Let's see Harry's hair transformation using the Houttuynia Hair Growth Scalp Ampule:

Week 1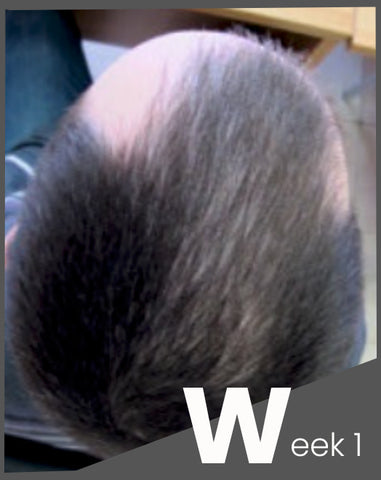 My hair thinning started out at an early stage of my life. I noticed my receding hairline when I reached the age of 25. Back then I just used to hide it by wearing a cap but it only worsened the situation, one time I was browsing the internet for products that can at least help me control hair loss. I discovered the Houttuynia Hair Growth Scalp Ampule and a few days of using it brought some good results.
Week 8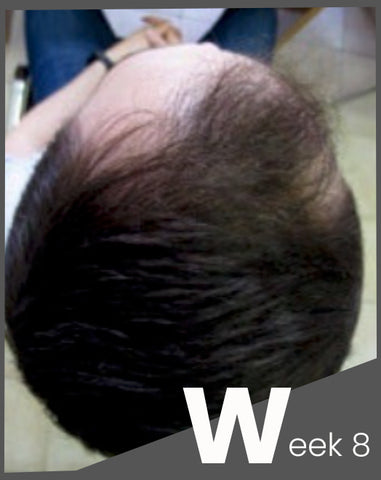 I just consistently used it for about 8 weeks and I enjoyed that it comes with rollers so that I have a wonderful time massaging my head and scalp with it. My girlfriend was quite surprised when she noticed the hair growth that I am having and she said that she can't wait to see more hair on my head just like our younger years.
Week 12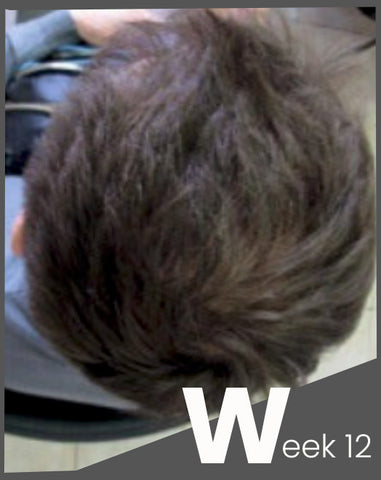 At last! I still am speechless at how amazing my experience with this product is. My hair is back to normal and I like that it is soft, smooth and more manageable than before. I thought that there is no other solution but a hair transplant but hey look at me now! I gained back the self confidence that I lost when I started losing hair and I feel that I look years younger than my actual age. My girlfriend is very happy and I am very satisfied with the outcome! Cheers!

Harry Nielsen, 30, San Diego, California
How to use: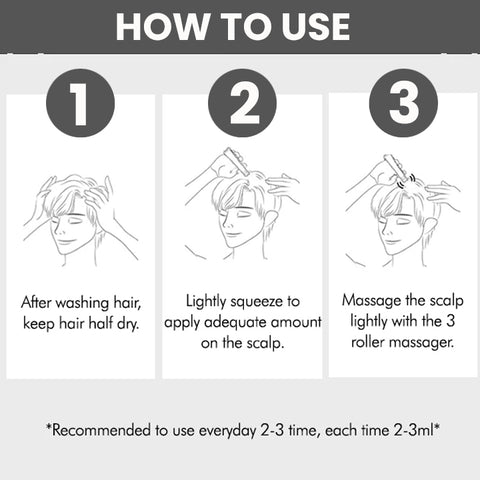 Slightly press the tube to eject serum. 

Apply the serum to where you want hairs to grow 

Gently massage the hair roots and scalp with the roller for 2 to 3 minutes

Apply on wet hair two times a day (morning and night) for a more desirable result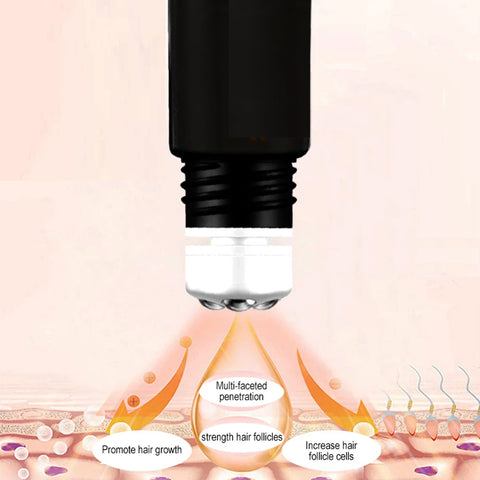 Ingredients:
Package Inclusion:
Houttuynia Hair Growth Scalp Ampule

x 1 pc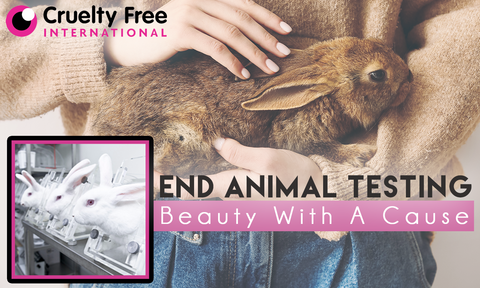 For each pieces of our product purchased, we donate a portion of our profit to support the Cruelty Free International organization, which helps to promote the protection of animals and end animal cruelty around the globe.  By purchasing our product, you are supporting our cause to provide a more animal-friendly beauty culture. Don't hesitate to contribute to corporate your passion for beauty and animal today.