The incredibly unique Sterling Silver Charm Bracelet looks gorgeous and will have everyone asking where you found such a unique and stunning bracelet. Our Dreamcatcher Charm Bracelet is made entirely of S925 sterling silver.
The Dreamcatcher Charm Bracelet certainly does complete any outfit and can be worn for every occasion. With stunning quality, and craftsmanship you certainly won't be disappointed. This bracelet is a beautiful gift for any woman. A beautiful example of a bracelet. The bracelet is simply stunning.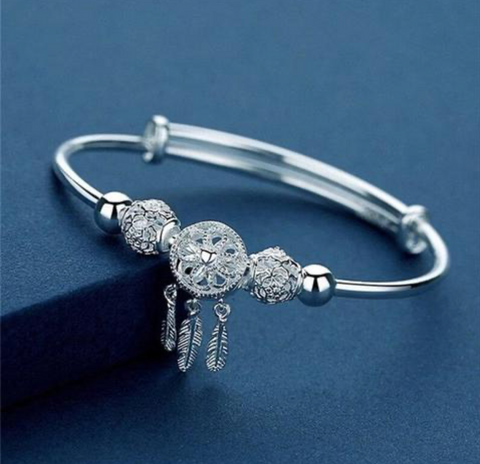 Dreamcatchers are an ancient creation that protects us from nightmares. Thanks to this Dreamcatcher Charm Bracelet, you will be able to chase the dreams in your life without any problem. Believed to trap bad dreams in its net while allowing peaceful dreams through, our sterling silver dangle is strung with pretty feathers for subtle movement. It is fully adjustable in size so that it adapts easily to your wrist, being finished in a spinning bead of dream catchers.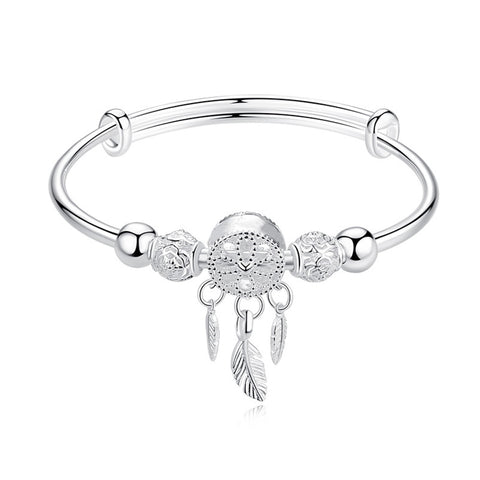 Specifications:
Material: Sterling Silver
Metals Type: S925 sterling silver
Fine or Fashion: Fashion
Shapepattern: Geometric

MOST FREQUENTLY ASKED QUESTIONS:
I have large wrist, will it fit me?
Yes, the bracelet is adjustable. That means you can loosen or tighten it as you please.
What is S925 Sterling Silver?
This stamp means the piece is made of sterling silver, or in other words, the metal is 92.5% pure. This is the real deal!
Will s925 sterling silver tarnish?
Pure silver is not susceptible to tarnish in a pure oxygen environment.