Climate change is increasingly affecting life on Earth, but humans are not the only ones suffering the effects of this natural disaster.

In addition to melting glaciers, fires, droughts, floods, storms, epidemics and migrations, there are also the serious effects on the health of four-legged friends, particularly in terms of canine "heatstroke".
KEEP YOUR DOG HEALTHY AND HAPPY


Is your dog exhausted, dehydrated or bored from the scorching summer heat? Here's your solution! With our WoofSplash – Refreshing Dog Sprinkler Pad, your furry friend will never want summer to end!

Simply connect your hose using our included adapter, turn on the hose and watch your friend have fun!!!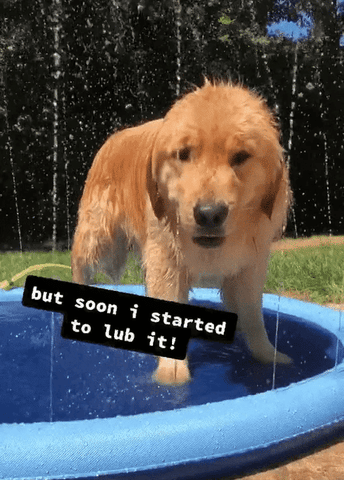 This WoofSplash is a must for your water-loving pup to enjoy endless splashing fun on hot summer days. It comes in a round shape and in different sizes.

You can also adjust the water pressure to your liking.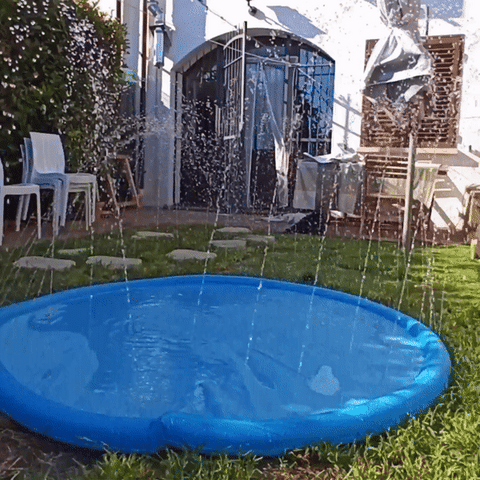 RECORD TEMPERATURES
We are facing an early summer as 75 cities have been warned of record high temperatures.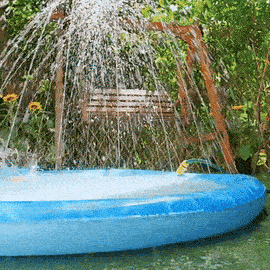 The summer season hides more than one pitfall for the animals that come with our everyday lives. That's why some extra precautions are needed to protect their health too.

As in humans, puppies and older animals are more prone to heat stroke and stroke.
Our sprinkler pad is
leak-proof and connected to your hose
, providing a
constant flow of water that will impress your water-loving furry paw.

It folds up, is easy to transport and store, and you can take it with you, your child and your dog/pet anywhere.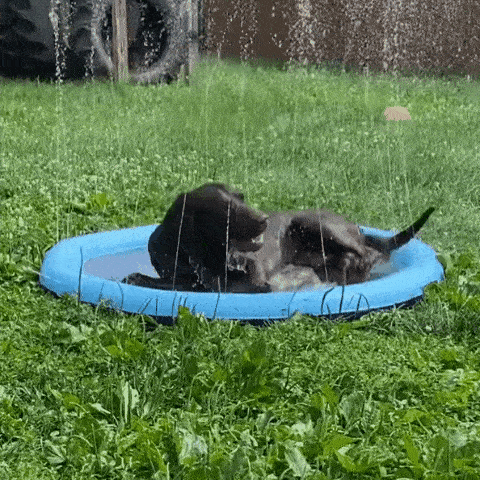 WOOFSPLASH  BENEFITS
✅Great fun for all:

 

The ultimate solution to keep your dog or child stimulated, cool and happy during those long, hot summer days.
✅Prevents dehydration:

 

all pets like to enjoy the sun while it's out, but dehydration is a common problem. This is solved with the WoofSplash  Sprinkler Pad, which combines summer enjoyment and hydration in one entertaining package!
✅Safe and durable material:

 

making it strong enough to survive a crazy dog and promote many hours of summer fun!
✅Suitable for anywhere :

 

The WoofSplash  Sprinkler Pad is a great addition to your lawn, yard, driveway or summer parties for kids. It's also the perfect gift for anyone who has pets or kids!
✅Kid Friendly:

 

Let your little ones have fun playing in the WoofSplash  Sprinkler Pad without worrying about drowning!
✅Set up and pack away in seconds:

 

simply connect your hose to the WoofSplash Sprinkler Pad using the included adapter, turn on the faucet and have fun! When you're done, simply drain the water and let it dry.