The incredibly unique Golden Charm Crystal Earrings look gorgeous and will have everyone asking where you found such unique and stunning earrings. Our Dreamcatcher Golden Earrings are made entirely of pure Gold and shiny crystals.
The Dreamcatcher Golden Earrings certainly do complete any outfit and can be worn for every occasion. With stunning quality, and craftsmanship you certainly won't be disappointed. These earrings are a beautiful gift for any woman. Beautiful example of earrings. The earrings are simply stunning.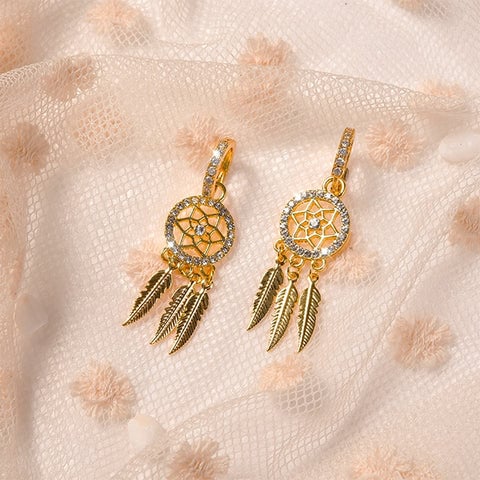 Dreamcatchers are an ancient creation that protects us from nightmares. Thanks to these Dreamcatcher Golden earrings, you will be able to chase the dreams in your life without any problem. Believed to trap bad dreams in its net while allowing peaceful dreams through, our golden earrings are strung with pretty feathers for subtle movement.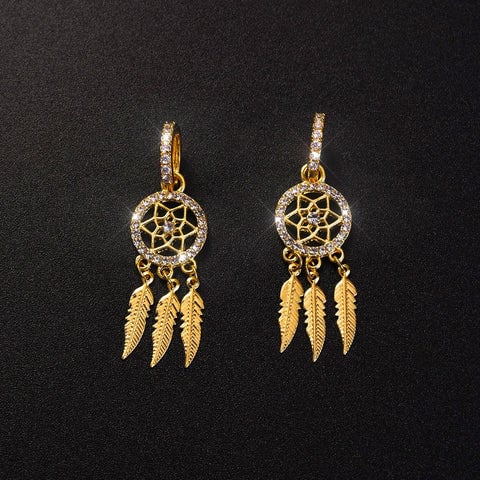 Specifications:
Material:

 

Silver
Fine or Fashion: Fashion
Shapepattern: Geometric

MOST FREQUENTLY ASKED QUESTIONS: 
What are the advantages of 14k Silver? 
Jewelers and consumers love 14k silver for its perfect balance of durability, affordability, and appearance. It's a bright silver that can handle everyday wear. This is the real deal! It's also a rich yellow color that contrasts beautifully with our crystals.
How long will it last?
It's a bright silver that will remained unaffected by everyday wear. That is the real deal!
Are these silver, I cannot wear other metal including gold dipped? 
Yes, these earrings are real silver.