Artist level High-quality Watercolor🎨
If you love the metallic watercolor, this is the one you must have.
FEATURES:
Artist Grade Paint – Made of extra fine and purity pigment, mixed with Gum Arabic and OX Grall make these paints have good transparency, good diffusion, high light fastness, and high saturation, perfect for mixing and blending.
Portable and Reusable – You can paint everywhere with this watercolor paint set: countryside, beach, train, garden, indoors, park, in the city.
Each watercolor can be removed or replaced individually, so you can arrange your colors in the way you like;
Long-Lasting Results Resistant to the damaging effects of direct sunlight. No fading, no discoloration, and fast drying for immediate results. Preserve the quality of your artworks for a lifetime.
Glittering Effect – Pre-mixed with IRIDESCENT medium, provide a special glitter effect, ideal for shimmer effect and highlighting
This watercolor paint set can make for the most appreciated gift for every artist and generally everyone that loves painting! Great also for Birthdays, Christmas & Thanksgiving, Graduation and Back-to-School all other Holidays!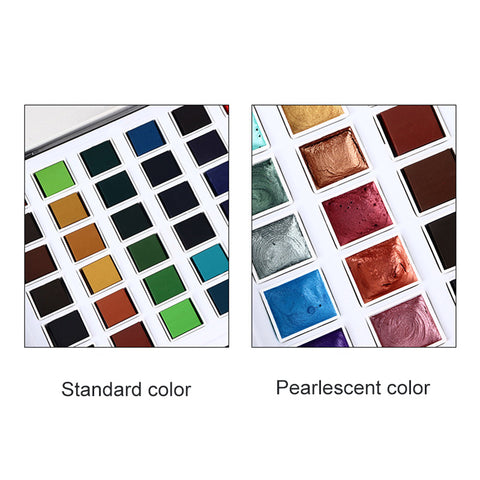 Artist-grade vivid colors with unbeatable price
Once you try it, you will find out they are way beyond your expectations.
PACKAGE INCLUDE:
Fountain pen x 1
Hook line pen x 1
Pencil x 1
Rubber x 1
Cleaning sponge x 1
36/48 Watercolor Paint