zGet your excess earwax out instead of pushing deeper, give your ear 360-degree rotating ear dig.

Stainless steel ear cleaners – smooth, rounded and polished surface especially for sensitive ears.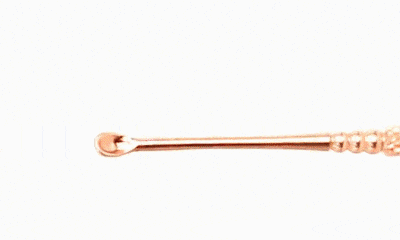 Product Features
REMARKABLE EFFECT:

 the earwax is designed in a spoon shape, which can effectively remove accumulated earwax, which is faster and cleaner than cleaning with a cotton swab. It is a tool for effectively cleaning ear wax.
SAFETY MATERIAL: All earplugs are made of medical-grade stainless steel, which is not easily deformed during use, durable, rust-proof, easy to clean and disinfect. Proper use of these tools is safe for the human body and helps to maintain the health of individuals and families.
PRACTICAL DESIGN: Full polishing tool, the surface is smooth and round, elegant, can effectively reduce the irritation or scratch skin in use, and bring a comfortable experience. The handle of the earbud tool is non-slip, easy to control and safer.
CLEAN EASILY: Wash thoroughly with soap and water before and after use, then wipe with alcohol to clean, very simple and convenient. In addition, for easier cleaning, the product is equipped with a small brush to clean residual debris before and after use.
EASY TO CARRY: Comes with a portable storage box that you can carry around for everyday home use or travel. The box is simple and elegant, and it is also a good gift to bring more health to family and friends.
Use For
Product Details
Eco-friendly stainless steel, wear-resistant, exquisite and durable.

A variety of combinations, with a visual ear spoon, safe and convenient.

Ergonomic and non-slip handles for easy and convenient grip.

Safe tool for personal use and for your family.
Product Includes
1 x Stainless Steel Rose Gold Ear Picks Set (With A Box)